Matthew Perkins was born in Manes, MO, November 23, 1911. He served in the Army during WW2 and in 1958 opened Perkins Pancake House in the Cincinnati suburb of Silverton, with his brother, Ivan. Their pancake recipe? It was one which Matthew had purchased the rights from William Smith, owner of Smitty's Pancake House, in Seattle. It would be hard to say if the original Perkins Restaurant was opened by the brothers in Silverton, Ohio in 1958 or by William "Smitty" Smith in Seattle, Washington in 1957. Both chains operated successfully throughout the 1960s and 1970s divided primarily by the map with Perkins Pancake House in the East and Smitty's in the West.
Perkins Pancake House was no ordinary pancake house, as one glance at their old menu would reveal. Guests could choose from over two dozen different pancakes and waffles, to satisfy any craving. Whether traditional buttermilk batter pancakes, potato pancakes, or waffles made with butter pecan or coconut, the restaurant had something for everyone.
The Perkins brothers added sandwiches to their menu in the 1960s and continued to expand the restaurant, offering franchise opportunities.
In 1967, Wyman Nelson, a franchise in Minneapolis, Minnesota, extended service in his restaurants to 24/7 and added a dinner menu. To reflect this change he renamed his restaurants Perkins "Cake & Steak" Inc. Over the following decade, Nelson gradually acquired both the Perkins and Smitty's chains, and by 1978 he had consolidated his efforts and purchased the Perkins trademark outright.
The company was then acquired by Holiday Corp., the parent company of Holiday Inns, in 1979 and the mid-1980s, Donald Smith, one of Holiday's board of directors, purchased the chain and subsequently transformed the restaurants completely. Not only did Perkins get a cosmetic makeover, undergoing significant in-store renovations, but the menu saw a complete overhaul as well, shifting the emphasis to breakfast omelets over pancakes and adding cheese melts and specialty salads to its lunch menu. An in-store bakery was added in 1986, and the change stuck: the restaurant chain became known as Perkins Restaurant & Bakery. The revamp was a hit; by the 1990s, Perkins' revenue had tripled.
In 1988, the first international restaurant opened in Ontario, Canada. Expansion continued, and today Perkins has over 450 restaurants throughout the US and Canada.
Perkins celebrated its 60th birthday in 2018 and rolled out a new menu. They added breakfast and dinner skillets as well as five new burgers. Perhaps the biggest secret to their success is this: Perkins has always meant quality. They have always been open to change and listening to what their customers want, revamping their menus and offering unique and fresh bakery items.
General Restaurant Information
Food Type: Family Style
Restaurant Type: Family Dining
U.S. Locations: 380
States: 32 states, Perkins Restaurant Locations
Company Slogan: Breakfast is just the beginning
Contact Information
Website: perkinsrestaurants.com
Questions: Contact Information
Phone number: 901-766-6400
Email: Contact Form Only
Blog: Perkins Restaurant Blog
FAQ Page: No
Ownership
Who Owns Perkins Restaurant? Perkins & Marie Callender's
Headquartered: Memphis, Tennessee
Contact Information:
Website: http://perkinsrestaurants.com
Email/contact page: Perkins Contact Information
Phone: 800-776-7437
Address: 6075 Poplar Ave #800, Memphis, TN 38119
Do They Franchise? Franchise Information
What Is It Like To Work At Perkins Restaurant?
Perkins Restaurant Employment Page
3.7/5 or 74%; 1,400 Reviews (indeed.com)
3.3/5, or 66%; 292 Reviews (glassdoor.com)
What to expect when working at Perkins Restaurant (job-applications.com)
The History of Perkins Restaurant
Original Location: Plainfield Rd, Silverton (Cincinnati), Ohio
Founded: 1958
Founded By: Matt and Ivan Perkins (Perkins Pancake House)
Biography Articles:
Matthew Perkins (nndb.com)
Perkins Family Restaurants (fundinguniverse.com)
Founder Obituary:
Obituaries:
Matthew R. Perkins, Restaurant Founder (79 nytimes.com)
Ivan P Perkins (findagrave.com)
Name Origin: Named after the founders.

Restaurant History Page: Perkins Restaurant History Page
Current View of Original Location: Coming Soon
Historical Articles:
Our History (perkins.com)
Perkins Family Restaurants (fundinguniverse.com)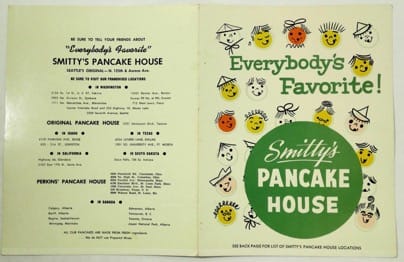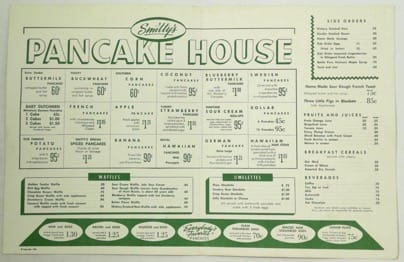 Social Awareness
Charity Focus: Dream Wish Vacations for terminally ill kids
Green | Eco-Friendly: No resources found
Animal Cruelty: No resources found
Discounts At Perkins
Listed below are the resources that were available at the time of this posting. For a better understanding of how restaurant discounts work and why they can be so inconsistent; check out In the world of restaurant discounts: What you need to know.
Rewards Program: Perkins Reward Program
Please use this link to find Perkins locations so that you can call your local store to inquire.
Do Kids Eat Free at Perkins Restaurant?
What day do kids eat free? Varies by location.
Summary: There are several external sources that list kids eat free discounts at Perkins. Please contact your local restaurant (Perkins locations) and ask if they participate and if so, what the details of the program are.
Here are a few great Kids Eat Free resources for you to bookmark –
Happy Money Saver: Kids Eat Free List (sorted alpha)
Passionate Penny Pincher: Restaurants Where Kids Eat Free (sorted by day of the week)
Penny Pinchin' Mom: Kids Eat Free List (sorted by day of the week)
Money Saving Mom: Kids Eat Free, The Master List (sorted alpha)
Does Perkins Restaurant Offer Military Discounts?
Summary: No resources found
Here are a few great Military Discounts for you to bookmark –
These 20 restaurants have the best military discounts (milspousefest.com)
Veteran's Day Free Meals and Restaurant Deals and Discounts (military.com)
Military Discounts Offered By Stores, Services and Online Sites (militarybenefits.info)
Veteran and Military Deals & Discounts (militaryconnection.com)
Veteran's Day Free Meals & Discounts – Over 100 Free Meals (themilitarywallet.com)
What Does Perkins Restaurant offer for My Birthday!?
Summary: Currently, the Perkins Reward Program states –
Below are a couple of sites that will help you enjoy your next birthday!
100+ Instant Free Restaurant Meals – Just Sign Up! (birthdaycandle.com)
Restaurant Birthday Freebies (heyitsfree.net)
101+ Restaurants with Free Food on Your Birthday (wallethacks.com)
Does Perkins Restaurant Offer First Responder Discounts?
Summary: No resources found.
There aren't many out there, but here are a few great First Responder Discounts for you to bookmark –
Restaurant & Food Discounts for Law Enforcement, Firefighters, EMS, EMTs & First Responders (badgeddiscounts.com)
100+ Discounts for Firefighters and First Responders (bradsdeals.com)
95+ First Responder Discounts (offers.com)
Does Perkins Restaurant Offer Senior Citizen | AARP Discounts?
Summary: There are several external sources that reference senior citizen discounts at the restaurant chain. Please contact your local restaurant (Perkins locations) and ask if they participate and if so, what the details of the senior citizen or AARP discounts are.
If you are 50 or older, there may be a restaurant (and other retail locations) that you can take advantage of. Here are a few resources to refer to –
Senior Citizen Discounts by State (seniorcitizendiscountlist.org)
List of Senior Discounts On Restaurants (theseniorlist.com)
Amazing Dining Deals (aarp.com)
Restaurant Senior Discounts: Where to Dine Out for Less at 50+ (after55.com)
40 Restaurants That Offer Senior Discounts (wisebread.com)
Are There Any Other Discounts or Benefits at Perkins Restaurant?
Summary: The chain offers its MYPERKINS Loyalty Program which provides several ongoing benefits. Check their page for current information and promotions. Also, make sure and check out our Rewards Program Page for links to all restaurants featured on Back of the Menu.
Amenities
Order Online: No
WiFi Available: Yes
Use Apple Pay: Yes
Reservations: No
Catering: No
Drive-Thru: No
Open 24 Hours: No
Customer Reviews of Perkins Restaurant
Yelp: 3.75/5 or 75%, 1,600 reviews sampled
Tripadvisor: 4.15/5 or 83%, 4,600 reviews sampled
Overall (weighted) Average: 4.21/5 or 84%, 15,600 reviews sampled
Perkins Restaurant & Related Items on Amazon
Food & Nutrition
Menu: Perkins Restaurant Menu
Kids Menu: Perkins Restaurant Kids Menu
Most Popular Menu Item: Chicken Strips Melt

Coke or Pepsi: Coke
Serve Alcohol: No
Nutritional Information: Perkins Restaurant Nutrition Guide
Vegetarian | Vegan Options: No resources found.

Additional Resources:
Vegan Options At Popular Fast Food Chains (onegreenplanet.org)
Here's How to Eat Vegan at Your Favorite Chain Restaurants (chooseveg.com)
Eating Vegan at National Restaurant Chains (insteading.com)
Your Best Vegan Option at 35 Popular Restaurants (eatthis.com)
Try These Vegan Fast Food and Chain Restaurant Options on the Go (peta.org)
Clean Eating (farm to table, organic options, non-GMO, etc): No resources found.
Here are a few great resources for you as you look for clean eating options when you dine out. –
The Best Farm-to-table Restaurant in Every State (travelandleisure.com)
Clean Eating Dining Out Guide (cookinglight.com)
How to eat clean even if you're eating out (mindbodygreen.com)
7 Rules For Clean Eating When You're Eating Out (coreperformance.com)
Miscellaneous Nutrition Resources:
14 Chain Restaurant Breakfasts Under 500 Calories (#8) (eatthis.com)
How to Eat Healthy at Perkins (healthyliving.azcentral.com)
Restaurant & Bakery Nutritional Information (fatsecret.com)
Can I Eat Low Sodium At Perkins (hackingsalt.com)
The 20 Worst Breakfasts in America (#6) (eatthis.com)
Allergy Information
Allergen Information: Perkins Restaurant Allergen Guide
Gluten Free Options:
Perkins Gluten-Free Menu (urbantastebud.com)
Dairy Free Options: No resources found, but the following may be helpful to you.
Restaurant Guide For Dairy-Free Dining (godairyfree.org)
Peanut Free Options:

Arby's Menu Items and Ingredients (arbys.com)
Food Allergy Guides For Many Chain Restaurants (verywellhealth.com)
Ways to Eliminate Risks of Peanut Allergy When Dining Out (healthguidance.org)
Does Perkins Restaurant Have Any Secret Recipes?
Perkins Restaurant Secret Recipes:
Granny's Country Omelette (topsecretrecipes.com)
Country Club Omelette (topsecretrecipes.com)
Potato Pancakes (topsecretrecipes.com)
Perkins Pancakes (geniuskitchen.com)
Perkins Restaurant & Bakery Recipes (allrestaurantrecipes.com)
Chicken Tender Melt (abitchinkitchen.blogspot.com)
Did You Know?
Fun Facts:
Before investing in pancakes, Matt and Ivan tried the gold prospecting in Alaska. It was during their travels that the brothers discovered Smitty's Pancake House in Seattle. Seeing the demand with the line waiting out the door, Matt struck up a deal with Smitty Smith giving him the rights to use the secret pancake recipe east of the Mississippi River (with the exception of Pennsylvania and the Dakotas) The brothers then opened up their first location, Perkins Pancake House, just outside of Cincinnati, Ohio in 1958. (source)

A franchisee, Wyman Nelson, changed the name to "Perkins Cake & Steak" so to let guests know the chain offered more than merely pancakes as well as take the chain to a restaurant being opened 24/7. He was successful in doing so and began opening locations in both the western and eastern parts of the States eventually taking over most of both Smitty's and Perkins. He would later go on to purchase the company from Matt and Ivan when they decided to retire in 1978. Nelson turns around and sells the company to Holiday Inn (the hotel chain) in 1979. In 1981, Holiday Inn changed the name to simply Perkins as we know it now. (source)
A number of companies have owned the restaurant since it opened its doors in 1958. They are currently part of the Marie Callender family. (source)
Interesting Articles:
Restaurant & Bakery Seeks Original Recipes (marketwatch.com)
Perkins Restaurant & Bakery launches new menu (nrn.com)
15 Restaurants You Didn't Know Changed Their Names (rd.com)
Restaurant & Bakery Celebrates 60 Years of Success (bizjournals.com)
Perkins Restaurant & Related Items on Amazon
Social

Media
Followers (as of October 2018) –
Facebook: 192,941
Twitter: 11,800
Instagram: 282

Mobile Apps
Perkins does not have any mobile apps at this time.

Alternatives
Food Type: Bob Evans, Cracker Barrel, Denny's, Village Inn

Restaurant Type: Bill Miller Bar-B-Q

For an alphabetical listing of all our restaurants, simply go to our Restaurants Page.
In Summary
Matthew Perkins and his brother Ivan went looking for gold in Alaska but found it in Seattle. Their business plan was simple in that they saw something that worked very well in Smitty's and brought it to the other side of the country and created their own success story. Individuals or businesses not reinventing the wheel probably happens more than we realize (Walmart and Tom's Shoes are good examples) where a company starts based merely on the fact that an entrepreneur sees something working so well for others (in the case of Smitty's people were lined up out the door) and adapted their version. I like the fact that Matthew seemed to do this in a very ethical manner in working out a business plan with William "Smitty" Smith and sticking to that.
I've never been to a Perkins restaurant before but as so often the case, I'm not drawn to visit at least once to take a walk down memory lane and think of the story of Matthew and Ivan and the story that began over 60 years ago. Who doesn't like a good story?
Videos